---
Back to School….in 1912: A view of Ontario's Primary Schools of the Time
As teachers, students and parents bustle about preparing for a return to school after labour day--- making a trip virtually or in person to a school supply store and possibly a uniform supplier, as ipads and laptops are made ready--do you wonder how students prepared to return to school a century ago? What was the school to which Ontario students in 1912 were returning or first entering? How were the students and teachers to comport themselves while there?
One evening a few years ago while at the Peel Archives, I came across the rules applicable to Ontario primary schools at that time. The strictures, which were based on and included excerpts of the Public School Act, were set out at the back of each class attendance register. The rules and recollections provided by others from the time, paint a picture of Ontario primary school life in 1912.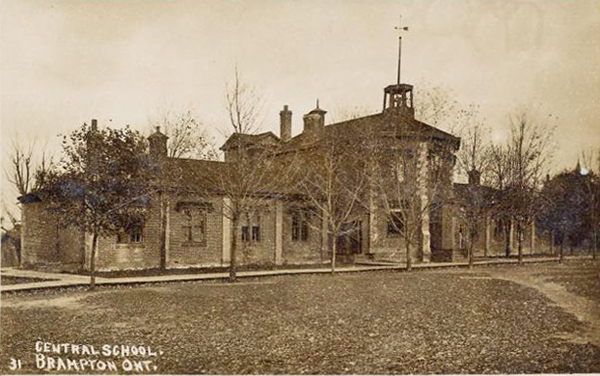 The Students
The school system was open to those between the ages of five and twenty one but only students between the ages of eight and fourteen were required to attend Primary school included "The" Kindergarten (note the article), "The" Kindergarten Primary and Forms I-IV. It isn't clear to me whether the kindergarten classes were available everywhere. I have seen no reference to them in Brampton histories during this period.
Forms were levels or what we now call grades and they were further divided into junior and senior categories. Thus a student might begin their education in junior form I (or Jr. lst), usually at age six and then progress the next year to senior form I (or Sr. lst). By the time a student completed senior form 4 (or Sr. 4th)—and assuming a successful pedagogical trajectory—one would be fourteen years of age, the same age that most Ontario students now complete grade 8.
The "subjects of the fifth form" were available to be taught to students who had passed their junior high school entrance examination. However the local schools were not required to provide those subjects if there was high school or a continuation school in the nearby vicinity. I assume that a continuation school was a primary school that also taught the fifth form.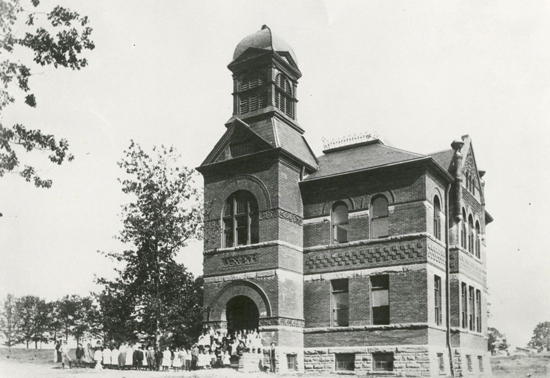 Curriculum
As for public and separate schools, the curriculum was to be the same except with respect to religious exercise and instruction. All instruction was to be provided in English except where there was a prevalence of French or German speaking students, in which case if the parents or guardians directed, reading, grammar and composition could be provided in those languages and textbooks in those languages could be used.
Code of Conduct
Students were not required to wear uniforms but they were required to adhere to a uniform code of conduct. Specifically, with respect to each student, it was provided that:
He shall be neat and clean in his person and habit, diligent in his studies, kind and courteous to his fellow pupils, obedient and respectful to the teachers; and he shall submit to such discipline as would be exercised by a kind, firm and judicious parent.
School Days and Hours
School began in the fall on September 1 and in the New Year on January 3–unless such a day was a Saturday or a Sunday. There was no delay for the passage of Labour Day.
Classes were required to begin at 9 a.m. and end no later than 4 p.m. The ending hour could be earlier so long as students received five hours of instruction each day, bearing in mind that students would have been accorded a full hour for recreation at midday (during which many would consume their "dinner" rather than what we call lunch) as well as at least two instances (recess) in the "forenoon and afternoon" in order to "afford due relaxation for mental strain."
Holidays
The holidays were prescribed and included every public holiday, the week following Easter day (presumably Easter Sunday), every day proclaimed a holiday by the authorities of the municipality and every Saturday. There was no need to specify that schools would be closed on Sunday. Provisions existed for the substitution of some holidays in rural schools presumably to allow for the assistance of the pupils on farms when required.
Two days that schools were open but were singled out for special treatment were Arbour Day and Empire Day.
In a display of commitment to the environment greater than some that have formerly been seen, one day a year was dedicated to nature. "Arbour Day" being the first Friday in May, or a day near to it, was recognized by students with "songs, readings, and recitations, designed to cultivate greater interest in trees and flowers and in the study of nature." Students in rural schools and in villages forewent indoor education that day and devoted their time to making flowerbeds, otherwise improving the school grounds and "planting shade trees". Shade trees were an important feature in school grounds as their preservation was a duty specifically ascribed to all teachers.
"Empire Day" was the last school day before the 24th of May. The day was to be celebrated in every school with the morning being devoted to "a study of the greatness of the British Empire." In the afternoon students were to enjoy patriotic speeches, recitations and music.
Health
The health of the teachers and students was taken seriously. School boards could make provision for students whose parents could not afford to pay for medical and dental treatment. The school boards were authorized to establish medical and dental inspection systems.
Teachers were required to refuse admission to the school of any pupil believed to be infected with or exposed to consumption or a number of contagious diseases including chickenpox, smallpox, cholera, glandular fever (what we would call infectious mononucleosis), scarlet fever, diphtheria, whooping-cough, measles and mumps. Teachers were awarded up to four weeks of absence for ill health, a period that could be extended with the consent of the school board.
Duties of Teachers
The duties of teachers—each of whom had to hold a certificate of qualification--were prescribed in great detail. Among the first, was the duty to
…inculcate by precept and example, respect for religion and the principles of Christian morality and the highest regard for truth, justice, loyalty, love of country, humanity, benevolence, sobriety, industry, frugality, purity, temperance and all other virtues
Of course the teachers were required to conduct examinations, to provide information about the progress of the pupils and to make promotions of students from one class or form to another. That information was provided to the Board and likely the Minister but it did not stop there. The names of successful candidates were published in the local newspaper. This might have been hard on those students not named, who could be assumed to have met with less success. But the practice was not as hard as that applied in the late 1800's. In an 1888 Conservator article, the final marks of a class in every subject were published, including a good number of failures.
Student –Teacher Ratios
A photograph from Brampton Central Public School at around this time, suggests that there were as many as forty students in a class. This was an improvement in the teacher-student ratio. In 1888, an additional teacher was required when there were more than sixty students in a class.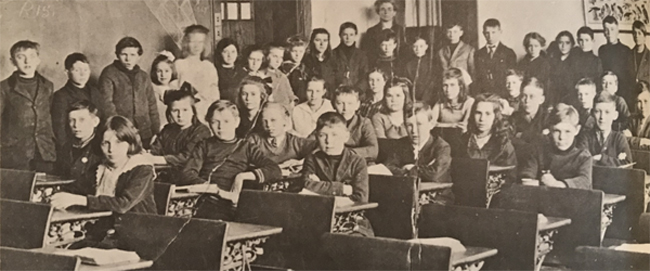 Cost
What of the cost? School was free to every person between the ages of five and twenty-one with the exception of the Kindergarten classes which were subject to such fees as the Board determined. Of course someone had to pay the costs of school operations and that fell to the local property owners who through taxes paid the costs of the public and separate school education provided in their school system. Transfer payments from one municipality to another were made where students attended schools closer to their home but outside their municipality. In addition, counties contributed funds for students who lived in houses of refuge (shelters for the homeless).
And what of ipads and laptops? How did those students in 1912 take notes without them? At one time students used chalk and slates, but by 1912 they had note books, called scribblers. In Brampton, on its way to becoming the Flower town of Canada, those scribblers were emblazed with an image of a single Dale rose.
---


---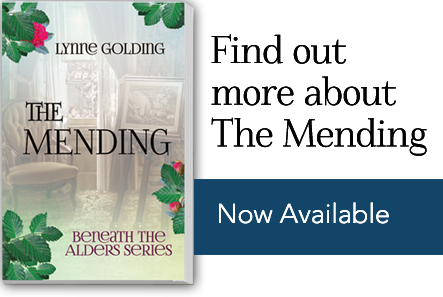 MORE ABOUT THE MENDING
---
To Order Your Copy of
The Mending
select one of these links.
---