---
Welcome to the eighth issue of my Beneath The Alders Newsletter
So glad you followed the link to this full version of the newsletter. This is a special month for me and my Beneath the Alders series: the month in which we celebrate Remembrance Day and the sacrifices made during World War I—the Great War as it was called. The desire to describe both the extreme sacrifices made by the men and women who served and the sacrifices of those at home during and after the war was a main objective of my series.  


A video of still photographs of Canadian men and women in the first decades of the 20th century, set to the recording of Jessie Current as she appeared on CBC Radio on November 11, 1999. Her words remind us of how that Great War changed the lives of so many, including a generation of women.
CLICK FOR VIDEO


A collection of letters that were written from the western front in February and March, 1915, as originally printed in Brampton's local paper, The Conservator.  Click on the link below to read more.
CLICK FOR ARTICLE


This article is based on eight letters written from members of the first contingent of the Canadian Expeditionary Force (CEF) in 1915. Click on the link below to read more.
CLICK FOR ARTICLE

Check out the Ask Colleen article here to find out more about the service and life of: Reginald Conover, H. Robins, Gordon Brown, Frank S. Rutherford, Robert Brown, Arthur Makepeace and Jack Pagan. Click on the link below.


Did you grow up with a "spinster" aunt or great aunt? I had three and that doesn't even include my great aunt Jessie. I always thought the great number of single women of that age correlated to the number of Canadian men killed in the Great War. But do the statistics bear that out?  Click on the link below.
CLICK FOR ARTICLE
---

---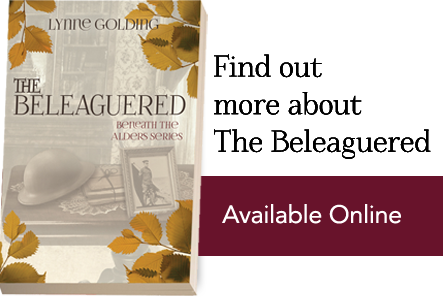 More About The Beleaguered
---
To Order Your Copy of
The Beleaguered
select one of these links.
---