---
Welcome to the nineth issue of my Beneath The Alders Newsletter
So glad you followed the link to this full version of the newsletter. Welcome to this Christmas edition of the Beneath the Alders e-newsletter, our last for 2021. In this e-newsletter we will look at three subjects relating to the holiday, each in a period of time corresponding with the three books in the Beneath the Alders series.


In this article, I look at the slogans and other implorations made by Brampton retailers in the December 19, 1907 issue of The Conservator, the local Brampton paper. Click on the link below to read more.


The Eaton's department store promoted Christmas through its catalogue, its magnificently decorated store windows and its annual parade by which Santa Claus was escorted into town and cheered by the masses before taking his place in the Eaton's Toyland. Click on the link below to read more.


Colleen's article is about a pause in the no-man's land between the Allied and German trenches on Christmas day. Because it speaks to peace and harmony at a time of great trial and division, it is a story we cannot be reminded of too many times. Click on the link below to read more.
---


---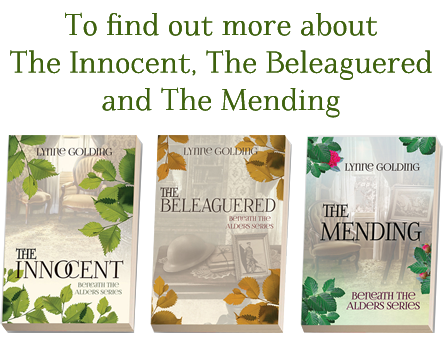 ---
To Order Your Copies
of Lynne Golding's Beneath the Alders Series
---