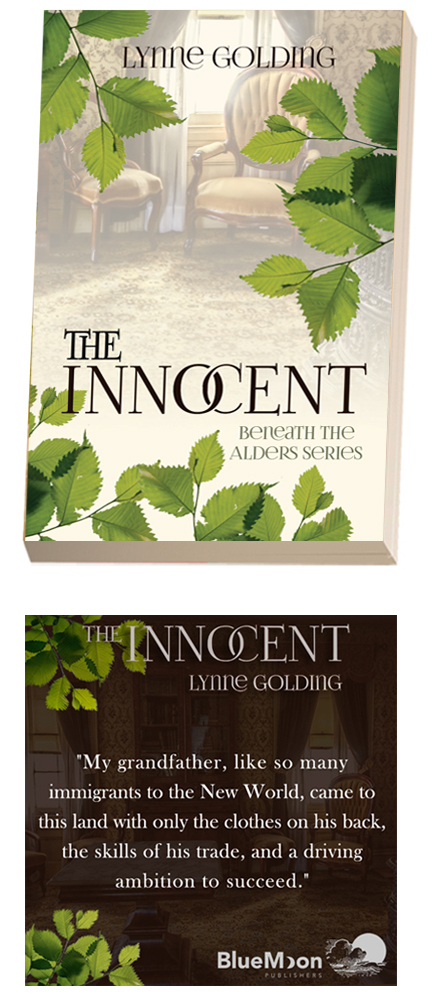 In the year 1907, all of Brampton is present at the sod-turning ceremony for the Carnegie Library. At the end of the event, the crowd rises as one to walk to the Presbyterian Church for a consecration service… Everyone except Jessie Stephens and her family. Her father will not allow them to enter the Presbyterian Church.
No one will tell young Jessie the reason, but she learns that it has something to do with her grandfather Jesse Brady, who built it. As she seeks to solve that mystery, over many years, Jessie slowly begins to learn the history of her family and the town in which she lives. Her tales of everyday life in small town Ontario combine to craft a vivid portrait of a life and a family that are, upon closer inspection, anything but ordinary.
The Innocent is now available in bookstores and online.
---
Who is the real Jesse
The Innocent and the Beneath the Alders series were inspired by stories relayed to Lynne Golding by Jessie Selina Roberts Current. Lynne referred to Jessie as her great aunt but technically, Jessie was her first cousin twice removed. These stories were gathered over countless holiday dinners commencing when Lynne was a child, coffee shop conversations she enjoyed as a student, and visits they had later in life in Jessie's various senior and nursing homes. The stories are supplemented with the historical facts and strung together by imagination bound only by the realm of the plausible.
The following is an excerpt from the Eulogy Lynne delivered at Jessie's funeral following her death on February 11, 2011 at the age of 108.

Jessie was born January 15, 1903 to Jethro Gershom (Doc) Roberts and his wife Frances Perry, the last of their three children. Her brother Jim was eleven years her senior and her sister Ina, eight. Raised in Brampton, Ontario, she lived a small town life typical of the time, focused on her extended family (her Grandpa Jesse Perry, her mother and her brother being special parts), school, church (Grace United), her friends and outdoor pursuits including skating on the Etobicoke Creek, swimming at Snell's (now Heart) lake and picnics at the Forks of the Credit with occasional trips to Toronto for the annual Canadian National Exhibition and to shop for clothes at the big Eaton's department store. The innocence of her young life and the trajectory of her future life, were all changed by the First World War.
In time Jessie attended Victoria College (Class of '25), at the University of Toronto, following in the footsteps of her sister Ina (Class of '19). She studied biochemistry at the undergraduate and graduate levels before becoming a professor and the Acting Dean of the Department of Household Sciences at the University of Toronto. A patriot, she joined the Royal Canadian Air Force in the Second World War, became an officer and took up a leading role in the provision of food for the thousands of troops processed and trained at the grounds of the Canadian National Exhibition.
In 1953 at the age of 50 she left her position at the University of Toronto in order to marry her beloved Warren Current, an American. Following his career moves, they lived in a number of US cities before settling in Stanstead, Quebec. There they raised a number of Dalmatians including her beloved "Freckles". Jessie lavished on her younger cousins (nieces and nephews) the love and affection that would have been bestowed on her own children had she married at an earlier age.
Rendered a widow in 1966, she returned to Toronto to be with her sister and her extended family and friends. With them she pursued her love of sports (swimming lengths until her late 80's and avidly following the Blue Jays), the arts and the advancement of knowledge. In her 80's she took courses in computer science and other subjects at Glendon College. She read widely, and wrote copiously, particularly on spiritual matters.
Eventually she became a caregiver to her older sister. Jessie arranged to have Ina moved from Brampton to join Jessie in her apartment building on Broadway Avenue in Toronto. When the care Jessie could provide to her there was not sufficient, Jessie arranged for Ina to be moved to a home and eventually the two of them moved into Rotary Laughlin Lodge, a combined seniors living/nursing home so that Jessie could oversee the additional care Ina required—although Jessie could easily have lived independently for a further 20 years! In 1993, Ina, then 98 years of age, left Jessie the last remaining member of her immediate family.
As time went on Jessie lost all of the friends and family that were her peers through her life but amazingly, the number of her friends never diminished. She had an incredible ability to generate and sustain new friends—friends of different generations. Thus the descendants and near descendants of her childhood friends, themselves became cherished friends. She developed close bonds of love and friendship with others that crossed her path: her care givers, her professional advisers, the children of residents in the seniors homes in which she lived, the children of her students; the in-laws of her cousins! Her genuine interest in and care for all of these people spawned great ties of loyalty.
Jessie was philosophical about death. She did not fear it. She was surprised at times that it took so long to reach her but she was prepared for it and looked forward to the peace it would provide.
---
Click below for fictional family tree of Jessie Stephens and actual family tree of Jessie Roberts.


---
Photo Information
Image above is of the real Jessie and her father.
Provided by Lynne Golding