Sir William James Gage: Brampton Connections
The Dictionary of Canadian Biography begins its entry on William James (Jim) Gage as follows:
---
GAGE, Sir WILLIAM JAMES, teacher, businessman, and philanthropist; b. 16 Sept. 1849 in Toronto Township, Upper Canada, son of Andrew Albert Gage and Mary Jane Grafton; …..
The youngest of seven children, William J. Gage was born on a farm south of Brampton. His father was originally from Stoney Creek; his mother, a native of South Carolina, had come to Upper Canada in 1812. Educated in Derry West and at the Brampton grammar school, he received his teaching certificate from the Toronto Normal School in 1866 and taught for three years in Broddytown (Brampton) before entering the Toronto School of Medicine.
---
There are a lot of quintessential Brampton and Peel County terms in that introduction. In this article, we'll unpack some of those terms and also describe the history behind his greatest legacy in Brampton, the beautiful park that bears his name.
His birthplace
Gage was born in 1849, just south of what is now Brampton in an area which, for some time, was known as Palestine (Derry and Tomken Roads). The precise municipal location was "Toronto Township" which should not be confused with the current city of Toronto. Back in 1849, the downtown area we now know as Toronto was known as York. The area then known as Toronto Township is now known as Mississauga. You might want to say he was born in Peel County, but Peel County was only created in 1851, two years after he was born. Furthermore, to be precise, the place we now call Ontario was, in 1849, officially known as Canada West—not Upper Canada.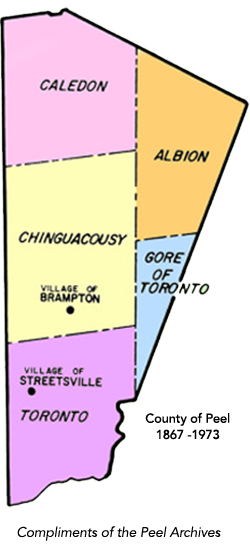 Graftons
Grafton is an "old" Brampton name with historical significance. The family name dates back well before 1066. The more modern history began in 1809 when Stewart Grafton and Mary McCool Grafton, both of Irish birth, sold their property in South Carolina. Three years after venturing west to Mississippi, in 1812, they again took up roots, longing to be once again on British soil. With seven children and others in tow, they travelled by horse and mule north to Queenston where, avoiding war time sentries, they crossed the Niagara River under cover of night.
The family settled first "west of York" at what is now Queen Street and University Avenue, Toronto but finding the land too wet for farming (hence, perhaps, the name Muddy York) they relocated north to a farm at Yonge and Eglinton. Their story may never have been a Brampton story but for the industriousness of their first-born son, Thomas Grafton.
In 1818, the British Government concluded the Ajetance Treaty by which it acquired from the Mississaugas of the Credit 648,000 acres of land north of Dundas Street, the eastern portion of which was organized into what became the northern half of Peel County. In order to be settled, the land first had to be surveyed. Timothy Street (after whom Streetsville was named), obtained the surveying contract. He secured the services of a chief surveyor, Dr. Bristol, and a number of assistants. Grafton was hired to lead the pack men and prepare the quarters for the survey party to follow.
When the surveying work was completed ten months later, Grafton and two of his brothers received grants of land along what we now know as Derry Road. Within a year, land grants along that road were made to a number of New York Irish immigrants with such last names as Beatty, Armstrong, Neelands, Graham, Rutledge, Broddy and Moore.
In time, Grafton would build a home on his land which he would call Royal Villa. Years later, Grafton's sister, Mary Jane, and her husband, Andrew Albert Gage, acquired the lot just to the east of Royal Villa. Both properties stayed within the two families until the early 1980s.
Derry West
If you go to the intersection of Hurontario Road (Highway 10) and Derry Road today you'll see on its corners two gas stations, a diner popular with truck drivers and a convention centre. Immediately beyond those businesses, you'll see fields. Three decades ago, you'd have seen even less. It's hard to imagine that a century and a half ago, Derry West was a thriving community. Thanks to the Graftons and others who settled on Derry Road in the 1820s, by 1877, the community had, among other things, two churches, one schoolhouse, temperance and orange halls, a post office, a blacksmith shop and a hotel.
Brampton Grammar School
It is not clear how long Gage attended school in Derry West. (His obituary makes no mention of his education there). Possibly he was taught in a one room school house proceeding through a few years of study then known as "books" (later those years were referred to as forms e.g. Junior First Form; or grades, e.g. Grade 1).
It is likely that the school Gage attended in Brampton was the Central School. Built on Alexander Street on land acquired in 1855, the original two-storey, six-sided structure provided education to students of all ages whether living in Brampton or beyond. Attendance was free for all pupils in the Brampton school system—long before this was legally required.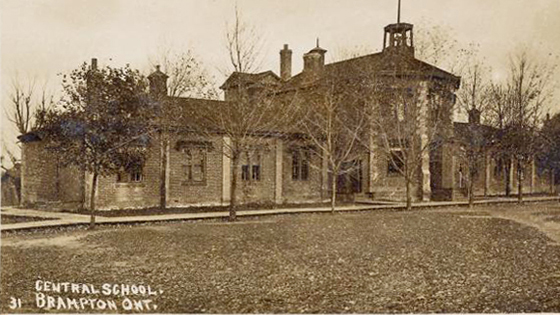 From there Gage went to Toronto to attend normal school, what we know as teachers' college. For more on these various types of schools see the Ask Colleen article from the BTA Newsletter 5 available here.
Broddytown
I admit that when I first saw a reference to Broddytown in connection with Brampton, I thought it was an error. I had never heard of the place before. I looked into it and discovered that the area at the intersection of Steeles Avenue and Kennedy Road once bore the name Broddytown, in honour, presumably of two properties then owned there by Robert and William Broddy.
It seems a school was located within the area and that for three years its students were under the tutelage of Gage. The tuberculosis deaths during his tenure of nineteen students, galvanized him to leave the profession in order to study medicine. Unable to continue in that pursuit, he turned to business and then to various civic causes. The combination of the latter two activities, leads us to the next and most well-known Brampton-Gage connection.
Gage Park
Gage Park—the lush lawned, alder tree filled jewel in the heart of Brampton—came about as a result of the demise of Brampton's first international business, the financial ruin of two of its most respected citizens, the generosity of one of its former students and teachers and the vision of the local residents. By now you will know that the former student and teacher was Gage.
The prominent citizens were Kenneth Chisholm and his brother-in-law, Matthew Elliott. Chisholm moved to Brampton initially in 1852 first working as a grain salesman. Though he left the community for a short time, he returned and operated his own successful grain business. He became a downtown Brampton retailer and a Forks of the Credit quarrier. Among other projects, his Bill Hill Quarries supplied the stone that clad the provincial legislature in Toronto and the Presbyterian Church in Brampton. He became postmaster, reeve of Brampton, warden of Peel County and a member of the provincial legislature. In 1883, he became a director of the Central Bank of Canada.
In 1867, he built Alderlea, the yellow brick Italianate Villa mansion, once a legion hall and now a conference centre, accessed from Elizabeth Street, Brampton. At the time it was built, the mansion reigned over a four-acre terrace-lawned park and the Etobicoke Creek and Brampton's Main Street below.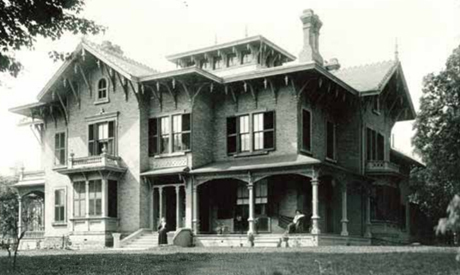 Next to Alderlea was the "Pines", a mansion built by Chisholm's brother-in-law, Matthew Mitchell Elliott. On a lot only slightly smaller, the Pines like its neighbour Alderlea to the south, backed on to Elizabeth Street and peered over the creek and street far below. Its northern lot line was the street we now call Wellington Street West (then, Wellington Street South).  A picket fence framed the lot.
Elliott was the son of John Elliott. John Elliott, together with William Lawson, are credited with founding Brampton and bestowing upon it its name. The two men were leading figures in the development of the four corners area that grew to become a village, a town and then a city.
Matthew Elliott was more than just his famous father's son. Like Chisholm, he was a well-known merchant and postmaster. He served as mayor of Brampton between 1883 and 1885.
We could all only wish for in-law relationships as close as that of Chisholm and Elliott. In addition to living beside each other and sharing a common commitment to civic involvement and the operation of postal services, for three decades the two men were business partners. In 1880, the two brothers-in-law invested in an iron foundry.
The Business
Haggert Iron Works, in its various corporate forms, was for many years the largest employer and most profitable business in Brampton. Founded by John Haggert in 1849 at the corner of Nelson and Hurontario, within the four corners area, it eventually occupied a four-storey plant employing over 140 men. The foundry produced some of the finest farm machinery in the province, winning prizes at exhibitions in Toronto, Philadelphia and Sydney. Based on those successes, Chisholm and Elliott invested in the company in 1880. It was not a wise investment.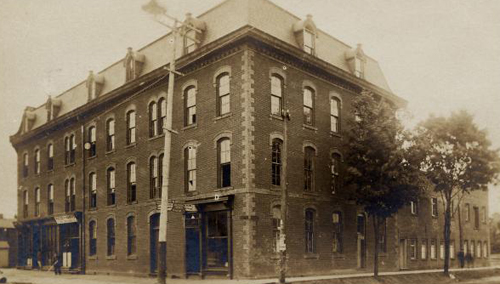 The success of the business in the first four decades of its operations could not be sustained. The positive effect of the two Brampton rail lines—which had initially granted the Haggert foundry such advantageous shipping conditions—was neutralized as rail lines proliferated throughout the country.
By 1891, the Haggert foundry was in liquidation, and the family's fortune and the fortunes of many of its investors and suppliers were lost.
Elliott was not alive to see the eventual collapse, although he would have been aware of the company's precarious financial position. In 1887, while on a trip to a Caledon stone quarry in which he had an interest (likely the Credit Valley Quarry & Co), he suddenly died. Six years following his death, his wife Elizabeth (Rathbone) Elliott defaulted on a mortgage payment and lost the Pines.
Chisholm was alive to see the demise of the Haggert foundry. It was not the only financial catastrophe he experienced. The Central Bank of which he was a Vice-President went bankrupt at the same time.
Gage Park
Chisholm, who had mortgaged his Alderlea property was in need of funds. Prescient Bramptonians saw the possibilities in combining the lower portions of Alderlea and the Pines and making them available as a public park. As a method of raising the necessary funds to acquire the properties, in 1895 citizens were asked to donate $10.00 to the purchase of trees for the future park. Over $1,000 was generated in this manner.
Perhaps sensing the great amount of time it would take to raise all the required funds and the potential of losing the use of the properties for the common good, Gage came to the aid of the town. On December 3, 1902, the town purchased the lower portion of the Alderlea property for $1,000. A few months later, Gage purchased the Pines. The price was $4,750. He donated the lower 70% portion of the lot to the town. The grant provided that the lot was to be used for the purposes of a public park only. The upper 30% portion of the lot was sold a few years later to Brampton based Copeland-Chatterson, manufacturers of loose-leaf binding systems for $3,900. By the time Copeland-Chatterson sold that lot in 1924 (for $6,000), it was being used as a warehouse for Brampton Tire & Rubber.
On Dominion Day (as Canada Day was then known) in 1903, Gage was met at the Grand Trunk Railway Station (our current GO/Via Rail station) by a party of dignitaries where he was escorted to the site of the new park and throngs of appreciative townspeople. Speeches were made, the band played the "New National Anthem", Peel Poet Mr. H. Schooley read an original dedication poem and thanks were given to a number of people whose actions were responsible for the park's creation. Councillor Treadgold expressed his hope that one day there would be within the park walking paths and fountains, a gymnasium (climbing apparatus?) and swimming baths all of which might be made available through the generosity of some of current and former residents.
Gage Park today has a number of endearing features including lush tree shaded lawns, a fountain and various commemoration sites. One of its most enchanting aspects though is its large elevated concrete bandstand, erected in 1950, to replace a smaller wooden version. Many a celebrity has graced its platform including in 1973, Her Majesty Queen Elizabeth.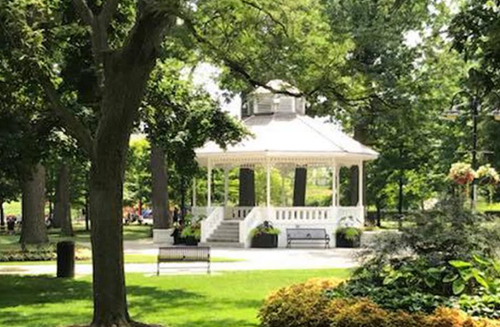 Other popular features of the park are a flower-shaped fountain and children's amenities including a splash pad (which replaced a wading pool) and climbing apparatus.  In the wintertime, young and old enjoy the ice rink that encircles the bandstand, and more recently, the beautifully lit trees and other holiday installations. 
Thanks to the generosity of Sir William James (Jim) Gage and many other current and former residents of Brampton, the vision of Mr. Treadgold and others for the park has been realized.
Some Sources
Conservator, July 2, 1903
Atlas of Peel County, 1877
A history of the Graftons by Russell Grafton
https://www.brampton.ca/EN/City-Hall/meetings-agendas/Brampton%20Heritage%20Board%202010/20110621bhb_I3.pdf
My thanks to James Young for bringing the materials about the Pines to my attention and to Yvette Scott for her searches of the land registry system.
---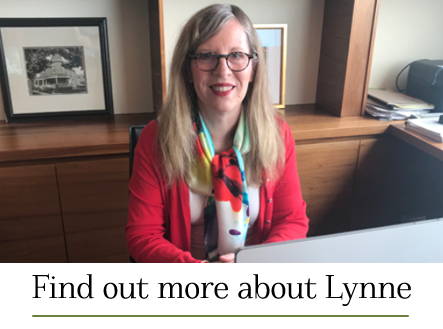 ---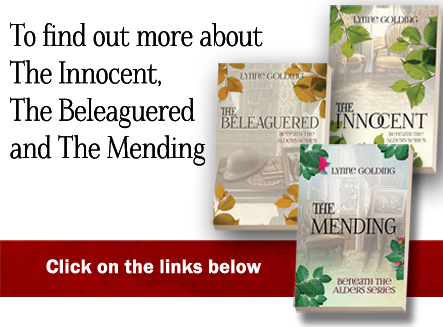 ---
To Order Your Copies
of Lynne Golding's Beneath the Alders Series