---
Welcome to the third issue of my Beneath The Alders Newsletter
So glad you followed the link to this full version of the newsletter. This issue focuses on The Mending, the third book in the series, which was launched on May 4, 2021. The Mending is set between 1918 and 1931. Jessie Stephens comes of age on the heels of the Spanish flu epidemic, in a time when skirt hems rose, compliance with temperance laws fell and marriageable men were in short supply.
For those of you who were not able to view the launch of The Mending, you can watch it here.  https://youtu.be/U6zlJkPsytU
---
In This Issue

At Victoria College in the fall of 1921, my Aunt Jessie was one of eighty-five freshettes (first year women) in a class of 187 first year students. Click on link to read more.
CLICK FOR ARTICLE

One of the professions most occupied by women in the Beneath the Alders series is that of nursing. In the Ask Colleen article, Colleen answers a number of questions I posed to her writing about Nursing in World War 1 and during the post war years. Click on link to read more.
CLICK FOR ARTICLE

The incorporation into my second book The Beleaguered of the story of the Perkins Bull Convalescent Hospital for Canadian Officers included a mystery to be solved. Click on link to read more.
CLICK FOR ARTICLE

Recently I was speaking with Clarrie Feinstein of Metroland about the last book in my Beneath the Alders historical fiction trilogy, which takes place mostly in Brampton. Click on link to read article.
CLICK FOR ARTICLE

---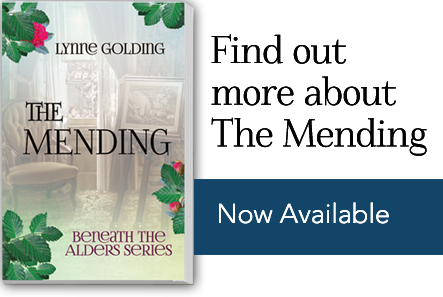 MORE ABOUT THE MENDING
---
To Order Your Copy of
The Mending
select one of these links.
---