---
T. S. Eliot: The Readings of Henry and Jessie
In The Mending, Jessie, then a young woman, has a beau, a British man named Henry. Henry likes to read classics and poetry, especially the words of a new poet named T.S. Eliot. In the winter of 1926-1927, Jessie and Henry spend Saturday afternoons in front of the fireplace while he reads to her his favourite Eliot poems. What poems would Henry have read to Jessie? How new a poet was Eliot? What would have influenced his works to that date?
For the highbrow among you, I highly suggest the excellent article produced by the Poetry Foundation available at https://www.poetryfoundation.org/poets/t-s-eliot from which I drew many of the facts in this article.
That article has analysis fit for an academic paper. In this short article of mine, I will focus mostly on Eliot's life and works in the years preceding 1927 and will provide absolutely no literary analysis.
An American by Birth
Thomas Stearns Eliot was born in St. Louis, Missouri in 1888, more than 50 years after his grandfather, William Greenleaf Eliot, a Unitarian missionary, civic leader, and university founder, settled there. While relatively new to those parts, the Eliot family was long established in the United States being among the first settlers in Massachusetts. Eliot's lineage included three American presidents (John Adams, John Quincy Adams and Rutherford B. Hayes).
The first son among a family of seven children, Eliot had, by all accounts, a happy childhood living in a large St. Louis home near the Mississippi River and spending his summers near the sea on Cape Ann at Gloucester, Massachusetts.
The city life to which he was exposed in St. Louis streets, slums, rivers and skies and the dissonance he felt being not quite at home in either St. Louis (where his family members were considered to be northerners) or Massachusetts (where his southern drawl was particularly evident) were pivotal influences on his later writing.
Education
Eliot was educated in St. Louis, Massachusetts, France, and England. He studied philosophy at Harvard, the Sorbonne and Merton College, Oxford, with the intention of obtaining a doctorate and joining a university faculty. In fact, Eliot became disillusioned with the study of philosophy. Though he completed his PhD thesis in 1916, he did not defend it.
Of all of the places in which he studied, Eliot liked Oxford the least. Among other things, he said that it was full of pregnant wives and sprawling children. It was also full of Americans. The demographics were likely at least in part due to the time of his arrival there -- August 1914. Many British male students had left the university to enlist, a status denied to Eliot on medical grounds.
After a year in Oxford, Eliot moved to London partially to avoid Oxford and partially to pursue his literary career. Having been taken under the wing of the influential American literary figure Ezra Pound, in 1915 Eliot published his first poem, The Love Song of J. Alfred Prufrock, written five years earlier. The poem brought him critical acclaim, though (or possibly because) certain of its phrases were considered scandalous.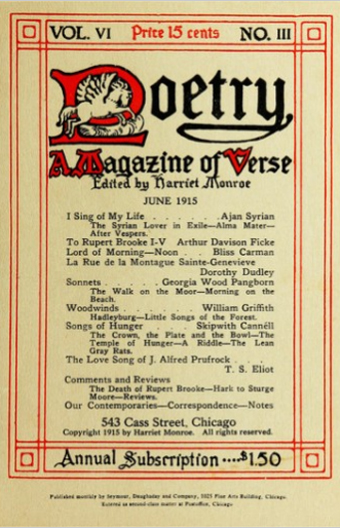 The War Years
Writing to his brother in 1916, Eliot complained that "The present year has been ... the most awful nightmare of anxiety that the mind of man could conceive." His mental state was affected by more than the death of friends and the German bombs being dropped on London.
Artistically, the war years represented a dry stretch in Eliot's writing. In 1916, six years after he wrote The Love Song of J. Alfred Prufrock, he expressed concern that the poem which had been his introduction to the literary world might also be his last.
Personally, these were difficult years as well. The reason related primarily to an event which was expected to bring much joy: his 1915 marriage to Vivienne Haigh-Wood, an English nanny. The two were not long wed before their incompatibility became evident. Vivienne, who suffered from a nervous condition before they married, became chronically ill. Eliot, who felt responsible for her deteriorating health and the financial costs of her treatments, eventually collapsed himself. In compromised health in the fall of 1918, it took the two Eliots years to recover from the Spanish flu.
Financially, too these years were challenging. After a stint of teaching school, in 1917 Eliot joined Lloyds Bank, in the Colonial and Foreign Department, where for the next nine years he worked by day. In the evenings and on the weekends, Eliot worked as a lecturer, reviewer, and essayist. Between 1916 and 1921, he wrote more than one hundred reviews and articles. His essays were said to have reshaped literary history.
The 1920s
The situation improved in the 1920s, first with The Waste Land, one of Eliot's most notable poetic works. Published in October, 1922, its vision of despair was lauded as representing the "dissolution of a generation." Eliot later claimed its inspiration was not the toll the war took on that generation but rather the state of his marriage.
Three years later, in 1925, Eliot left Lloyds and joined the publishing house of Faber and Gwyer (later Faber and Faber) as a director, a position he held for the balance of his career. He also began writing a play, Sweeney Agonistes, which was published in 1932 and performed in 1933.
Henry's Readings
Generally, Eliot's poems were first published in periodicals. But in 1917, Eliot published Prufrock and Other Observations, his first collection of poems in book form. Two other collections of his poems were published in book form in 1920: Ara Vos Prec (London) and Poems: 1920 (New York). In 1925, he published The Hollow Men including poems he had written between 1909 and 1925.
It is likely that our fictional character Henry would have serenaded his beloved Jessie, with stanzas from one of these books.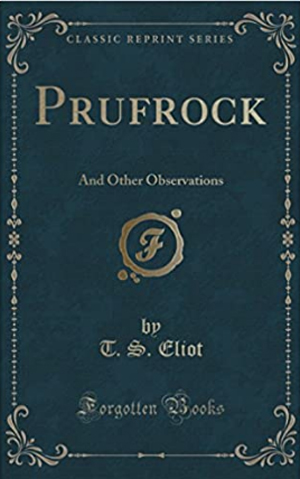 Eliot's Later Years
The most momentous events in Eliot's life occurred during and after those weekends that Jessie and Henry spent in front of a Brampton fireplace. In 1927, Eliot, who had always felt like a foreigner, changed his nationality and his religion. Seeking to be more at home in England, he became a British citizen and a member of the Anglican Church.
He added to his repertoire further plays, including Murder in the Cathedral, The Family Reunion and The Cocktail Party. In 1939, he published Old Possum's Book of Practical Cats, which decades later would inspire the creation of Cats, the musical composed by Andrew Lloyd Weber. (I will not speak of the movie that the musical inspired.) In 1943, Eliot published The Four Quartets, from which the epigraph to The Innocent was drawn.
We shall not cease from exploration
And the end of all our exploring
Will be to arrive where we started
And know the place for the first time
- T.S. Eliot, Four Quartets
Eliot and Vivienne formally separated in 1933. Five years later, Vivienne's brother had her committed to a mental hospital where she lived the remaining years of her life, apparently against her will. Vivienne died in 1947 from heart disease. In 1957, Eliot married Esmé Valerie Fletcher, who was his secretary at Farber. He was 68. She was 30. Eliot did not have children.
Literary Legacy
Eliot was fortunate in that his literary genius was recognized while he lived. This is not to say that the admiration for his works was universal. Some reviewers of the Waste Land, for example, commented that it was esoteric, wilfully difficult, obscure, and incompressible. But his brilliance overcame those early reviews. In eulogies printed following his death in 1965, Eliot, the winner of the 1948 Nobel Prize in literature, was recognized as being as one of the most influential literary figures of his time.
---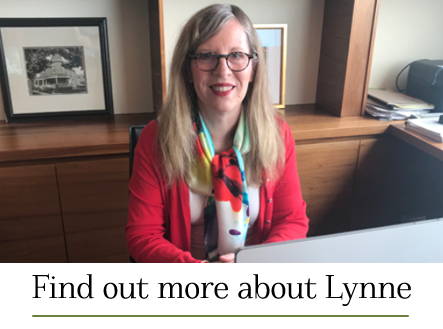 ---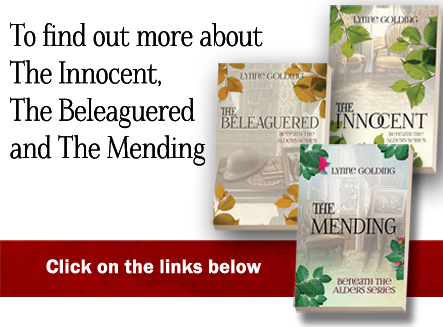 ---
To Order Your Copies
of Lynne Golding's Beneath the Alders Series
---