---
The Life and Times of Jesse Perry
In his 1931 obituary, Jesse Perry was described in the local Brampton newspaper as the contractor who built "some of the best buildings in the county"; a builder who ranked "second to none in the County of Peel and surrounding district".
When I was asked earlier this year to contribute a video to the Ontario government's on-line Culture Days program, I decided to focus on Jesse Perry. In addition to being a key figure in my Beneath the Alders series and the man behind one of its central mysteries, he is a man whose legacy in Brampton should be celebrated. The problem was that the COVID circumstances that require so much of our culture to be celebrated on-line these days, has limited my ability to find out more about him.
So based on stories told to me by my great aunt, records of Jesse Perry's great grandson and his wife (Elizabeth and the late Perry Cockburn), the wonders (and pitfalls) of Ancestry, an article by Perkins Bull, some newspaper articles I had obtained in pre-COVID days and historical building designations available on-line, here is a start on the Jesse Perry story. But let's consider this a work in progress. Someday I will tell you more!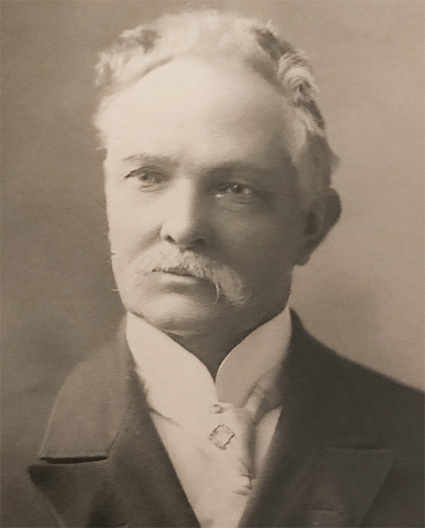 Oh, one more thing before we continue. This article relates chiefly to the work Jesse Perry completed in Brampton. Unless specified otherwise, all street references are to streets in Brampton. In fact, Jesse Perry, completed projects outside of Brampton too. But that is for another day…
Early Days
Jesse Perry was born in Devizes, Wiltshire, England on Christmas Day, 1834, the youngest child of Joseph Perry (born 1789) and Mary Maslen. Jesse Perry had three siblings: John, Marianne and Esther. He completed his apprenticeship as a builder at the Southampton Docks, a major passenger and cargo port and naval building yard located in the central part of the south east coast of England, seventy-two kilometers south east of Wiltshire.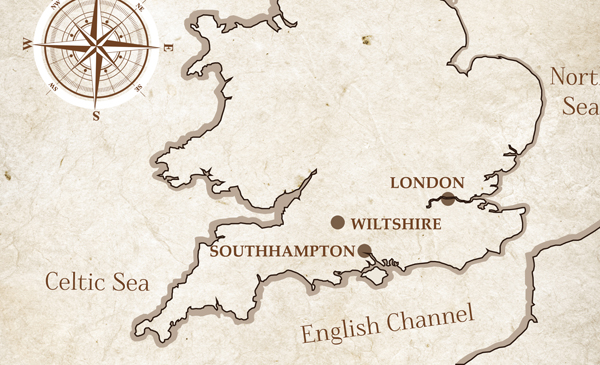 In 1857, Jesse Perry married Louisa Davis (born 1835) of West Lavington, Wiltshire, a village just south of Devizes. One can assume that there was no alcohol at the wedding festivities that followed the service. In addition to (or perhaps because of) their Baptist convictions, Louisa's father Samuel was a founder of the "teetotal" movement in southern England.
The newlyweds travelled to Bristol where they embarked on their Atlantic crossing aboard an unfortunately named vessel, the Stormy Petrol. From Quebec, they proceeded by train to Toronto and thence the newly incorporated 1,000 person village of Brampton, all along the newly constructed rails of the Grand Trunk.
One of Jesse Perry's first jobs as a local contractor was with John Elliott, a founder of Brampton and one of the largest landowners in the area. At Elliott's Main Street home south of Wellington Street (now the location of Ward's funeral home) Jesse Perry and his partner, a fellow newcomer called Smith, built a brick stable and carriage house. Apparently, the awarding of the contract to the newcomers was not taken too kindly by the established local trades. It was, as my mother-in-law would say, "ever thus". They persevered in spite of the death threats that followed the awarding of the contract.
Commercial Buildings
As Brampton grew from being a village to a town and as it gained a second railway line, its industries expanded and its population boomed. Jesse Perry helped meet the ensuing demand for commercial buildings by constructing many of the stores, hotels and banks in and around the downtown four corners area. Included among those were the Haggert foundry buildings and, later in his career, the Pease Manufacturing warehouses.
Possibly the most historic of the buildings in the immediate four corners area today, is the Dominion Building constructed by Jesse Perry in 1889 on Queen Street, just east of Main. The grand Romanesque Revival style three-storey building was designed by Thomas Fuller who also designed the first Parliament buildings in Ottawa. The building exemplifies Perry's detailed masonry work with mostly rusticated credit valley sandstone.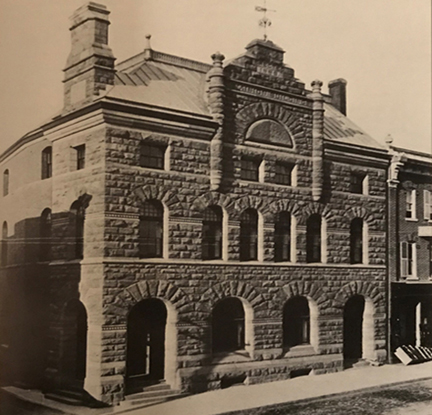 The Dominion Building ceased to be used as a post office following the construction of a modern post office further east on Queen Street in or about the 1960s. In time, the Dominion Building was transitioned for multiple uses. It has served as the police department headquarters, the offices for city of Brampton employees, an ACCESS employment centre, a pub (O'Malley's) and, most recently, a Starbucks. The back portion of the building is currently the home of The Works, a GREAT hamburger eatery. Algoma University has premises on the upper floors.
Houses
Jesse Perry is also credited with working on some of the nicest of homes in Brampton. These include pre-eminent mansions like Alderlea (on Elizabeth Street overlooking Gage Park, now a premier wedding and event venue) and Haggertlea (on Elizabeth and Nelson Streets, now organized into eight separate apartments). The list of homes he constructed also includes those more modest but equally tasteful such as 247 Main Street North; 249 Main Street North, 8 Wellington Street East and 23 Wellington Street East.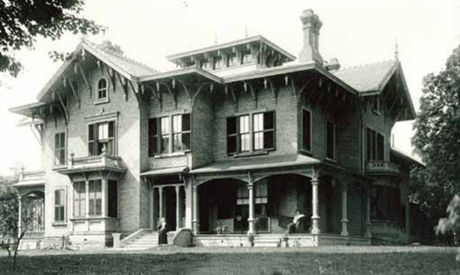 It is clear that Jesse Perry built some homes on speculation. There are several examples in the Brampton land registry records of lots purchased by Jesse Perry for $300 or less and sold a few years later, replete with a house, for a multiple of that amount. With respect to 249 Main Street North, records indicate that he purchased the lot on which it was constructed (Lot 113, BR-8) in 1878 for $190. He sold the lot complete with a home, three years later to Reverend William McFadden of the Wesleyan Methodist Church, for $2700.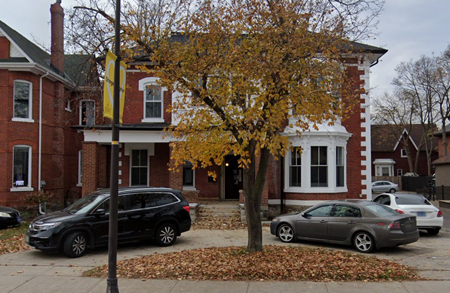 Churches
Jesse Perry's legacy may be as much in the houses of worship he helped build. In 1867, he served as the builder and possibly as well, the architect, for the new Wesleyan Methodist Church—the Main Street church we now refer to as Grace United. Twenty years later, Jesse Perry oversaw the construction of the church's enlargement (re-opened December 1888). He also provided the masonry work on the Main Street Primitive Methodist Church (cornerstone laid in 1885, now St. Paul's United Church).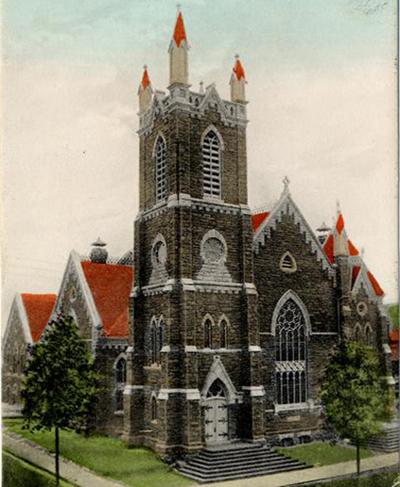 Among his most prestigious commissions was his masonry and plaster work on the Presbyterian Church (completed in 1881, now St. Andrew's Presbyterian Church). It appears that he also worked on the conversion of the Episcopalian Methodist Church at Queen and Elizabeth Streets to the Anglican Christ Church after that building was acquired in 1884.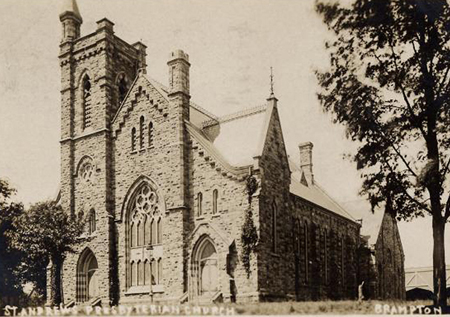 Jesse Perry does not appear to have had any involvement in the construction of the prominent First Baptist Church which opened at Main and Wellington Streets in 1876. One wonders whether the congregation decided not to retain him to construct their large new building because of his decision to leave the church or whether he left the church because of their decision not to retain him. It is possible of course that the two decisions are not connected at all; that he did not even seek to construct the church.
What we know is this. Jesse and Louisa Perry, were married in the Devizes, Wiltshire Baptist Church. They identified themselves as Baptists in the 1861 and 1871 Canadian censuses. Sometime between 1873 and 1874, they transferred their allegiances to the Wesleyan Methodist Church. For the better part of the next five decades, Jesse Perry worshiped in the sanctuary he built of what is now Grace United Church, becoming an active leader and devoted member of its choir and Sunday school program.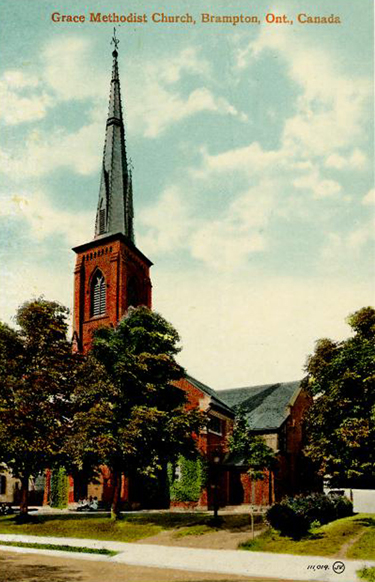 Business Partners
Sometimes Jesse Perry worked in partnership with others. As mentioned above, on his first project in Brampton for John Elliott, Jesse Perry worked with a fellow newcomer named Smith. From the newspaper accounts regarding the tendering for the Peel County Court House and Peel County Jail (for which he was not retained) and for at least one other project at the time, Jesse Perry was working with Richard Clow.
Reference is made to Jesse Perry in the historical designation papers for 12 Victoria Terrace--- not for the work he rendered on that property—he appears not to have worked on it at all--but rather for his connection with William B. McCulloch, another prodigious Brampton builder. "The property has historical or associative value as it reflects the work of William B. McCulloch. … a local contractor and builder who often worked alongside Jesse Perry." In the historical designation papers for 247 Main Street North, Jesse Perry is said to have worked with other local contractors as well including Josiah Mason in the late 1880s and Joseph Sewell in the early 1900s.
Financial Setback
Jesse Perry suffered a financial set back in his career, more of which will be said another time. The setback did not keep him long from the construction work to which he was devoted. It did result though in a temporary relocation. For a short time in the late 1880's and then again in the early 1900's, Jesse Perry is said to have resided in Winnipeg (establishing possibility the traditional place of refuge for this descendants in times of trouble. Read more in my series). In the early 1900s, he oversaw the construction of the Pease Manufacturing Warehouses in that city as well as in Brampton.
Hobbies
While Jesse Perry was clearly a hard worker he had time for other pursuits as well, especially in his later or "declining" years. In addition to his weekly participation in church choir performances and practices, he was a member of the Independent Order of Odd Fellows, Golden Star Lodge #101 (Brampton), with which he was awarded the veteran's jewel. The organization, instituted in 1872, is a fraternal order, still operating in Brampton and dedicated to "endeavours to enlighten the mind without taking privileges."
In the summers, Jesse Perry could often be found bowling on the Rosalie Park lawns (now the Union Street site of the YMCA) and in the winter on various curling rinks.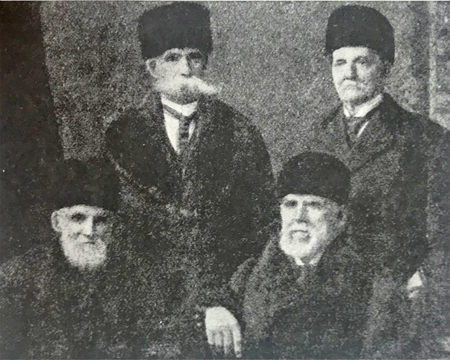 In the summers, Jesse Perry could often be found bowling on the Rosalie Park lawns (now the Union Street site of the YMCA) and in the winter on various curling rinks.
Personal life
Jesse and Louisa Perry had at least three homes in Brampton. The first, built when they arrived in 1857, was a wooden "shanty" on the western outskirts of the village, on the south side of the Grand Trunk Railway tracks. Just across the tracks was "Albert Lowes' bush in which were several Indian camps." Later the wooden "shanty" was replaced by a brick house. In time, the family moved to a new home be built on Alexander Street, near the Central School. The house was called Woodbine Cottage.
Jesse and Louisa Perry had four children who lived to adulthood: Samuel Walter (1858 - 1937), Ada Louise (born 1860), Frances Mary (1862 - 1952) and Minnie Esther (1869 - 1941). A fifth child, John William (1864 -1867), died in infancy. On July 4, 1883, Ada married Martin Blain, with whom she made a life in Cleveland, Ohio. Minnie (yes, that was her real name), first married a Toronto lawyer, Alonzo Edward Swartout. Following his death in 1894, Minne remarried, this time to William Jackson McPherson, of Ohio, also a lawyer, with whom she moved to Denver, Colorado.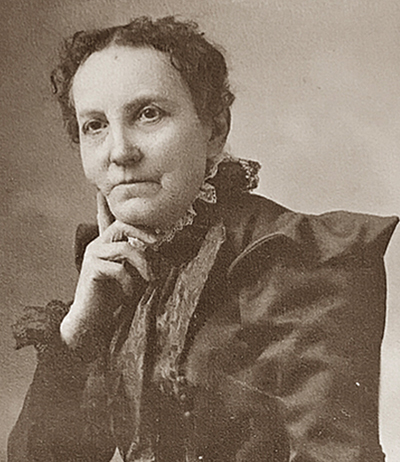 Samuel too left Brampton. With his wife Maude Richards, they raised five children in Toronto. Sam was a teacher of occupational therapy with the University of Toronto. His granddaughter, Lynn Cockburn followed in his footsteps, recently retiring from a long career at the same university and in the same department.
Louisa (Davis) Perry died in Cleveland, Ohio on February 24, 1905. With her health failing, Jesse Perry had taken her to be with their eldest daughter, Ada. Louisa was buried in Brampton, following a funeral service led in part by the aged Rev. William Herridge, a Methodist minister who in addition to being acquainted with Louisa's father, had the distinction of preaching the last sermon Jesse and Louisa heard in England before departing for Canada and among the first sermons the couple heard in Brampton.
Of all of Jesse and Louisa children, only Frances stayed to raise her family in Brampton. Together with Jethro Gershom Roberts, a local dentist, they had three children Jim, Ina and Jessie. Following the death of his beloved wife Louisa, Jesse Perry moved into the Chapel and Wellington Street Brampton home he built for Frances and her husband. That house continued to be his home until it was sold in 1920.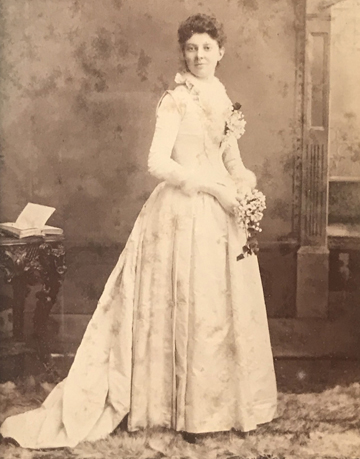 Jesse Perry spent the last eleven years of his life at the home of his son Sam located at 406 Brunswick. Ave Toronto. It was in that home that he died on January 20, 1931 at the age of 96. In what is believed to be his last will and testimony, drawn by hand on July 26, 1920, Jesse Perry bequeathed $300 to Sam to partially repay him for sums loaned "in his time of need." Smaller bequests were made to his daughter Ada and daughter-in-law Maude for their kindnesses to his dear wife during her last illness. A bequest of a similar nature was made to his son-in-law Martin J. Blain. The most touching bequest was the one made to his son-in-law, Jethro Gershom Roberts, to whom he left $50 which was "not in any way to pay him and his dear wife for their kindness to me in giving me such a good and pleasant home during his declining years."
Perkins Bull, a noted local historian, sums up the life of Jesse Perry in these words:
He never instituted a lawsuit. He never knowingly wronged anyone. His conscience was tender, his heart was kind. His constant wish was to be a good citizen, a good husband, father, and friend, a Christian gentleman.

---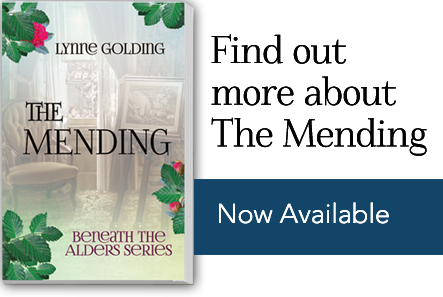 MORE ABOUT THE MENDING
---
To Order Your Copy of
The Mending
select one of these links.
---